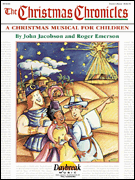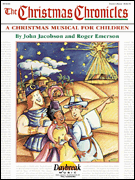 Christmas Chronicles-P.O.P.
Roger Emerson & John Jacobson
- Hal Leonard Corporation
Extra! Extra! The Bethlehem Chronicle is in big trouble. If subscriptions don't increase, the newspaper is history! Rock Gibraltar (sports reporter), Sandy O'Callahan (social editor), and Scoop Early (Cub reporter and part-time shepherd) are scouting Bethlehem for a big story. They'll need a miracle to save the paper - and it's on the way in a manger downtown. This delightful musical has eight songs, clever dialogue, and a touching story that will help you and your students celebrate the wonder of Christmas. Grades 1-6. 30 minutes.                                          
Select a Product
Customers Also Bought
Full Song List
SILENT NIGHT
GLORY, GLORY HALLELU!
LOOKING FOR THE LIGHT
PEN AND INK
SENSELESS CENSUS
SHARE THE NEWS
THE GREATEST STORY IS YOU
THE KINGS OF SWING
JOY TO THE WORLD
O COME, ALL YE FAITHFUL ADESTE FID