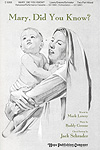 Mary, Did You Know?
Mark Lowry & Buddy Greene/arr. Jack Schrader
- Hope Publishing Company
This powerful contemporary Christmas ballad has been recorded by numerous artists over the past decades, from Pentatonix to Kenny Rodgers, and seems to increase in popularity each year. This classic arrangement has perfectly captured the epic drama of the text, pondering the baby's purpose on earth. "Mary, did you know that your baby boy would someday walk on water?"
Select a Product
Customers Also Bought