A Closer Walk with Thee
(Just a Closer Walk with Thee/Trust and Obey)
arr. Stan Pethel
- Lorenz Corporation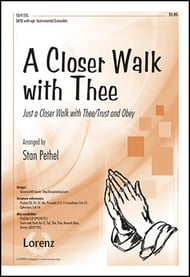 A Closer Walk with Thee
(Just a Closer Walk with Thee/Trust and Obey)
arr. Stan Pethel
- Lorenz Corporation
Publisher Desc.
In this arrangement about walking with Christ, you'll love the combination of two gospel favorites
Just a Closer Walk with Thee
and
Trust and Obey.
Beautiful writing in the choral parts is underscored by a tasteful and slightly bluesy accompaniment, which can be augmented with the use of the optional instrumental ensemble.
Select a Product
Customers Also Bought
MINTS