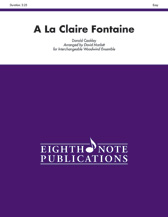 A La Claire Fontaine
Donald Coakley/arr. David Marlatt
- Eighth Note Publications
Publisher Desc.
This popular Quebec folksong is a combination of words from the Normandy and Champaign regions of France and a melody born in the New World, which is quite different from its French counterpart.
A La Claire Fontaine
was known to the men of Samuel de Champlain's Order of Good Cheer as well as the coureurs de bois who used it as a paddling song. As well, early inhabitants of French Canada sang it as they cleared their land along the St. Lawrence River.
Select a Product
Customers Also Bought
This item appears on the following state lists: