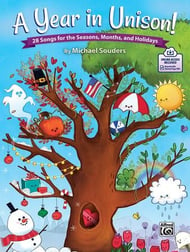 A Year in Unison!
(28 Songs for the Seasons, Months, and Holidays)
Michael Souders
- Alfred Music Publishing
There's always a song to sing with this charming collection designed especially with elementary children in mind. Celebrate Halloween, Valentine's Day, Saint Patrick's Day, Martin Luther King Day, Mother's and Father's Days, the four seasons, every month of the year, and more! These brief but timely tunes are just right for singing on any day or every day! Plus, you'll always have an appropriate performance piece, no matter the occasion. Fully reproducible, choose between the traditional book with or without online audio, the digital version with online audio, or the enhanced CD.
Select a Product
Customers Also Bought
Full Song List
Autumn
September
Patriot Day
October
Ghosts and Ghoulies
November
Let Us Give Thanks
Winter
December
Happy Holidays, My Friend
January
He Had a Dream
February
Love, Love, Love
Springtime, Springtime
Springtime, SpringtimeMarch
I Have a Lucky Shamrock
April Showers
Plant a Tree
Dancing 'Round the Maypole
A Mother's Love
Summer
June
You're My Dad
July
Here's to You, Red, White, and Blue
August
Back to School Buddy