An American Spectacular
(A Musical History of the United States)
arr. Chris Sharp
- FJH Music Company Inc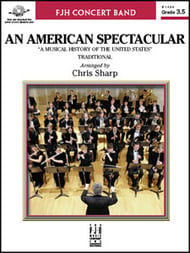 An American Spectacular
(A Musical History of the United States)
arr. Chris Sharp
- FJH Music Company Inc
Treat your audience to an incredible salute to America that provides a thorough musical history of the United States. Featuring a multitude of well-known tunes, the medley's timeline begins when our country was still a colony of the British Empire. It continues through the Revolutionary War, the War of 1812, the westward expansion, the Civil War and World War I. Included are:
God Save the Queen; The Girl I Left Behind Me; Chester; Hail, Columbia; Columbia, Gem of the Ocean; Shenandoah; When Johnny Comes Marching Home; The Battle Cry of Freedom; Over There
and
The Caisson Song.
The grand finale features a rousing rendition of the beloved anthem
America, the Beautiful.
A magnificent tribute to our homeland!
Select a Product
Customers Also Bought
MINTS