Act Your Age
(CD with Bonus DVD)
Gordon Goodwin's Big Phat Band
- Immergent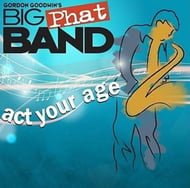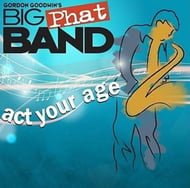 Act Your Age
(CD with Bonus DVD)
Gordon Goodwin's Big Phat Band
- Immergent
For the fourth recorded edition of his "Big Phat Band," Grammy-winning Gordon Goodwin's
Act Your Age
continues to display dynamic big-band writing executed with complete aplomb! A bevy of guest soloists is on display in tracks by accomplished pianists Chick Corea and Dave Grusin, vocalist Patti Austin and guitarist Lee Ritenour, who also produced the CD. In addition, Gordon illustrates his genuine appreciation of the legacy of the enduring jazz masters with the intriguing cutting-edge re-recording by Art Tatum of
Yesterday,
which is surrounded by his modern chart of the Jerome Kern classic tune. Also featured are Gordon's version of Herbie Hancock's
Watermelon Man
and Patti Austin's smokin' cover of Earth, Wind and Fire's
September.
As usual, the Big Phat Band's premier players round out the featured solos including outstanding performances from altoist Eric Marienthal, tenor saxophonist Brian Scanlon, and the band's vaunted trumpet section of Wayne Bergeron, Dan Fornero, Dan Savant and Bob Summers. Also featured are trombonist Andy Martin and drummer Bernie Dresel. Included with the CD is an exciting bonus DVD, loaded with great stuff that Gordon's fans expect from him including videos, interviews, commentary, band bios, games, "make your own mix" of two of the album's tracks, and the entire
Act Your Age
CD in stunning DVD quality and 5.1 surround sound. Track listing:
Hit the Ground Running; Watermelon Man; September
(featuring Patti Austin and Lee Ritenour);
Yesterday
(featuring Art Tatum);
Senor Mouse
(featuring Chick Corea);
Punta del Soul
(featuring Dave Grusin and Lee Ritenour);
Act Your Age; Chance Encounters; Backrow Politics; East Coast Envy; El Macho Muchacho
and
Gumbo Street.
You can't be without this incredible package!
Select a Product
Customers Also Bought
Full Song List
HIT THE GROUND RUNNING
WATERMELON MAN
SEPTEMBER
YESTERDAYS
SENOR MOUSE
PUNTA DEL SOUL
ACT YOUR AGE
CHANCE ENCOUNTERS
BACKROW POLITICS
EAST COAST ENVY
EL MACHO MUCHACHO
GUMBO STREET