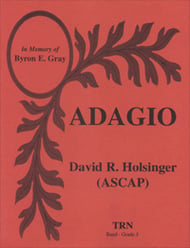 Adagio
David Holsinger
- TRN Music Pub. Co.
Composed in memory of a departed friend, this work is an intensely emotional synthesis of both joy and pain, the result being a beauty touched with sadness similar to the effect achieved by Albinoni's famous
Adagio.
Also similar with that work is its large arch form, which culminates with a broad full band statement of the theme set against a proud counterstatement in the horn section. On either side of the arch is a long, expressive crescendo/decrescendo built upon a rising bass line almost like a passacaglia. A beautiful tribute!
Select a Product
Customers Also Bought
This item appears on the following state lists: