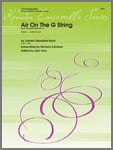 Air On The G String
J.S. Bach/arr. Richard Johnston
- Kendor Music Publishing
Publisher Desc.
With the distinctive bass line and melody woven so completely and idiomatically into the upper three clarinet parts, this ever-popular Johann Sebastian Bach theme from his
Orchestral Suite No. 3
is an excellent challenge for any Grade 4 clarinet quartet. Scored for three B-flat clarinets and one B-flat bass clarinet.
Select a Product
Customers Also Bought