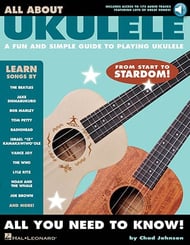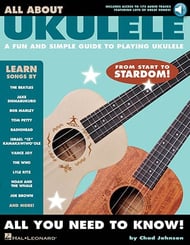 All About Ukulele
Chad Johnson
- Hal Leonard Corporation
Publisher Desc.
Have you struggled through tedious lessons and boring instruction books in your desire to learn to play the ukulele? If you wish there was a fun and engaging way to motivate you in your uke playing quest, then this is it: All About Ukulele is for you. Whether it's learning to read music, playing in a band, finding the right instrument, or all of the above, this enjoyable guide will help you to finally start playing your favorite songs in many different styles. Plus, learn interesting tid-bits on ukulele gear, care and maintenance, other fretted instruments, and other fun stuff about the uke. This fun-filled, easy-to-use guide includes:
- An introduction to bass
- Step-by-step music reading instruction
- Background on various styles of music, including dozens of favorite songs
- Performance tips & tricks
- Famous uke players & essential listening
Excerpts from over 40 songs are included: All Along the Watchtower; China Grove; Dream On; 5 Years Time; Free Fallin'; In My Life; Karma Police; Let It Be; More Than Words; Ode to Joy; Over the Rainbow; Pinball Wizard; Riptide; You Really Got Me; and many more. The audio is accessed online using the unique code inside each book and can be streamed or downloaded. The audio files include PLAYBACK+, a multi-functional audio player that allows you to slow down audio without changing pitch, set loop points, change keys, and pan left or right.
Select a Product
Customers Also Bought