All the Best Songs for Kids
Ken Bible
- Lillenas Publishing Co.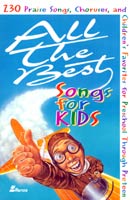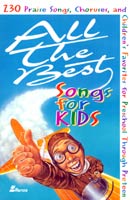 All the Best Songs for Kids
Ken Bible
- Lillenas Publishing Co.
Anyone who uses sacred music with kids of any age will want this one-of-a-kind treasury. This songbook contains 230 songs, divided into age-group sections: early childhood, early elementary, and late elementary. Songs are also divided by topic, with a wide variety of general and seasonal themes covered. Melody, words, piano accompaniment, and chord symbols are included in the songbook. The performance/accompaniment CDs, available separately by section or as a complete set, are presented in split-channel format for listening or singing along.  Parents, grandparents, church choir directors, and music teachers alike will enjoy this wonderful resource.  
Select a Product
Customers Also Bought
Full Song List
I AM A PROMISE
I AM THANKFUL TO BE AN AMERICAN
I HAVE A FRIEND
I HAVE DECIDED TO FOLLOW JESUS
I HEARD ABOUT
I LOVE JESUS
I OFTEN THINK OF GOD
I OPEN MY BIBLE AND READ
I WILL CALL UPON THE LORD
I WILL SING MEDLEY
ADAM IN THE GARDEN
I WILL SING OF THE MERCIES
I WILL SING PRAISE TO THE NAME OF J
I WILL TRUST THE LORD
I WONDER HOW IT FELT
I'M GONNA HIDE GOD'S WORD INSIDE MY
I'M HAPPY TODAY
I'M SOMETHING SPECIAL
I'VE GOT PEACE LIKE A RIVER
IF I WERE THE WIND
IF YOU BELIEVE
ALL CREATURES OF OUR GOD AND KING
IF YOU CAN SING A SONG
IF YOU'RE HAPPY
IMMANUEL IMMANUEL
IN MY FATHER'S HOUSE
INTO MY HEART
ISN'T HE
IT'S A MIRACLE
IT'S GOOD TO GIVE THANKS
JESUS DEAR JESUS
JESUS I LOVE YOU
ALL NIGHT ALL DAY
JESUS IS A GENTLEMAN
JESUS IS ALIVE AND DOING WELL
JESUS IS HIS NAME
JESUS IS LIVING IN HEAVEN TODAY
JESUS LOVES
JESUS LOVES EVEN ME
JESUS LOVES ME
JESUS LOVES THE LITTLE CHILDREN
JESUS LOVES THE LITTLE ONES
JESUS NAME ABOVE ALL NAMES
ALL THINGS BRIGHT AND BEAUTIFUL
JESUS THE HELPER
JESUS WE JUST WANT TO THANK YOU
JOHN 3:16
JOYFUL JOYFUL WE ADORE THEE
JOYFUL JOYFUL WE ADORE YOU CHRISTM
KIDS UNDER CONSTRUCTION
LET THE CHILDREN COME TO ME
LET'S ALL SING TOGETHER
LITTLE CHILDREN
LORD WE PRAISE YOU
AMEN
LOVE IS PATIENT
LOVE LOVE LOVE
MAKE ME A SERVANT
MERRY CHRISTMAS
MIGHTY GOD MEDLEY
MISSIONARIES
MY GOD IS SO BIG
MY HANDS ARE THE HANDS
MY HANDS BELONG TO YOU
NIGHTTIME THOUGHTS
ANSWER SONG
NO MOUNTAIN HIGH ENOUGH
NOAH
NOBODY ELSE
O BE CAREFUL
O COME ALL YE FAITHFUL
O COME LET US ADORE HIM
O COME LITTLE CHILDREN
O HOW HE LOVES YOU AND ME
O HOW I LOVE JESUS
ONE BIG HALLELUJAH
APPLE RED HAPPINESS
ONLY A BOY NAMED DAVID
OPEN SHUT THEM
OUR NEW SONG OF PRAISE
PETER JAMES AND JOHN IN A SAILBOAT
PHILIPPIANS 4:13
PRAISE GOD FROM WHOM ALL BLESSINGS
PRAISE HIM
PRAISE HIM PRAISE HIM
PRAISE TO THE INFANT KING
PRAISED AND EXALTED MEDLEY
ARKY ARKY
REJOICE
ROCK ON ROCK
SAINTS SOCIETY
SANDY LAND
SAY TO THE LORD I LOVE YOU
SEARCH MY HEART
SEEK YE FIRST
SERVANT MEDLEY
SERVANT OF ALL
SHHHHH
AWAY IN A MANGER
SHADRACH MESHACH AND ABEDNEGO
SHOW HIS LOVE MEDLEY
SING ALLELUIA
SING AND CELEBRATE
SING SHOUT CLAP
SONG FOR SPECIAL DAYS
SOON AND VERY SOON
SPECIAL WORDS
STOP GO WATCH
TAKE OFF THOSE RAGS LAZARUS
BABY JESUS by CORBITT
FRIEND
TAKE THE BLAME
TEACH ME LORD
THANKSGIVING DAY
BIBLE
BIBLE TELLS US JESUS GREW
BUTTERFLY SONG
FAMILY OF GOD
FRUIT OF THE SPIRIT
FRUIT OF THE SPIRIT MEDLEY
FRUIT SONG
NEW TWENTY THIRD
PEACE LOVE JOY MEDLEY
TREES OF THE FIELD
WIGGLE SONG
WISE MAN AND THE FOOLISH MAN
THERE IS A REDEEMER
THERE WERE TWELVE DISCIPLES
THERE'S NO ONE EXACTLY LIKE ME
THINGS THAT I CAN DO
THIS IS GOD'S HOUSE
BE STRONG
THIS IS MY PRAYER
THIS IS THE DAY
VOLUNTEERS
WE ARE THE CHILDREN
WE ARE THE LIGHT
WE GO TO CHURCH
WE HAVE A KING
WE WERE MADE TO LOVE THE LORD
WHAT A MIGHTY GOD WE SERVE by LEATHERMAN
BETHLEHEM LULLABY
WHAT A WONDERFUL WORLD
WHEN FRIENDS COME
WHEN HE CAME
WHEN TO CHURCH I GO
WHEN WE TALK TO HIM
WHO CAN DO ANYTHING
WITH MY VOICE
WONDER SONG
WONDERFULLY MADE
WORSHIP THE KING
BLESS HIS HOLY NAME
YOU ARE LORD TO ME
ZACCHAEUS
ZEROES INTO HEROES
BLESS HIS NAME MEDLEY
BLESS THE LORD
BLESSED BE THE LORD
BY FAITH
CAN YOU IMAGINE
CELEBRATION MEDLEY
GREAT BIG GOD
CHEERFULLY OBEY
CHILDREN OBEY YOUR PARENTS
CHRIST THE LORD IS RISEN TODAY
CHRIST WAS BORN IN BETHLEHEM
CHRISTMAS ISN'T CHRISTMAS
CLAP YOUR HANDS
COME ON RING THOSE BELLS
COMING AGAIN
CREATURE PRAISE
DECK THE HALLS
HAPPY HOME
DOWN IN MY HEART
EMMANUEL
EMMANUEL MEDLEY
ENOUGH LOVE
EVERYBODY OUGHT TO KNOW
EVERYBODY OUGHT TO LOVE JESUS
EVERYTHING THAT IS IS HIS
EXERCISE SONG
FAITH
FATHER ABRAHAM
HELPER I WILL BE
FATHER I ADORE YOU
FILL IN THE BLANKS
FISHERS OF MEN
FRIENDS OF GOD
GENTLE SHEPHERD
GET IN THE ARK
GIFTS IN MY HEART
GIVE ME JOY IN MY HEART
GIVING
GLORY TO GOD IN THE HIGHEST
ABCDEFG
GO TELL IT ON THE MOUNTAIN
GOD CALLS US
GOD GAVE ME EYES
GOD HEARS MY PRAYER
GOD IS SO GOOD
GOD IS WATCHING OVER YOU
GOD MADE EVERYTHING
GOD MADE OUR WONDERFUL WORLD
GOD NEEDS HELPERS
GOD SPOKE
ABUNDAWONDERFUL LIFE IN JESUS
GOD TAKES GOOD CARE OF ME
GOD TELLS ME
GOD'S CARE
GOD'S NIGHT LIGHT
GREAT BIG BEAUTIFUL WORLD
GREAT IS THY FAITHFULNESS
HALLELUJAH
HANDS ON SHOULDERS
HE HAS MADE ME GLAD
HE IS EXALTED
ABUNDAWONDERFUL MEDLEY
HE IS LORD
HE IS THE KING OF KINGS
HE IS THE WAY
HE'LL BE COMING DOWN FROM HEAVEN
HE'S GOT EVERYTHING UNDER CONTROL
HE'S GOT THE WHOLE WORLD IN HIS HAN
HEAD AND SHOULDERS KNEES AND TOES
HEART TO CHANGE THE WORLD
HELPING GOD
HEY JONAH
ACTIONS SPEAK LOUDER THAN WORDS
HINGES
HOLY GROUND
HOLY HOLY HOLY LORD GOD ALMIGHTY
HOSANNA by TRADITIONAL
HOW GREAT HOW GLORIOUS
HUMBLY GRATEFUL OR GRUMBLY HATEFUL
HUSH
HYMNS OF PRAISE MEDLEY
I AM A C
ADAM ADAM