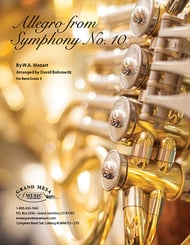 Allegro from "Symphony No. 10"
W.A. Mozart/arr. David Bobrowitz
- Grand Mesa Music
This lively allegro is the third and final movement from Mozart's Tenth Symphony. Arranged here in the key of F Major, the work has all the charm of early Mozart, with a catchy melody in the A section and call-and-response melodic figures in the B section. This authentic transcription is an enjoyable piece to play and a pleasure to listen to!
Select a Product
Customers Also Bought
MINTS
This item appears on the following state lists: