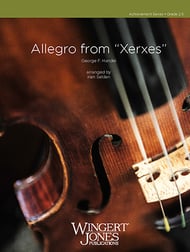 Allegro from "Xerxes"
George Frederic Handel/arr. Ken Selden
- Wingert-Jones Publications
This spirited Allegro comes from the overture to Handel's 1738 opera "Serse" (Xerxes). Transposed to D major, this approachable arrangement provides students the opportunity to explore basic Baroque bowing style within a simple imitative texture, with interesting material given to all sections of the orchestra. Includes Viola parts in treble clef, and Violin 2 parts in alto clef for flexible ensembles.
Select a Product
Customers Also Bought
MINTS
This item appears on the following state lists:
This item appears on the following festival lists: