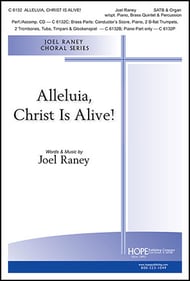 Alleluia, Christ Is Alive!
Joel Raney
- Hope Publishing Company
From the opening notes, the tone is set in the garden as Mary is searching for Jesus. Learning that "He is risen and the tomb is empty," the music swells forward with dynamic energy, compelling rhythmic energy and fanfare-like choral parts. The addition of the optional piano, brass and percussion parts further heightens this triumphant Easter Day exaltation.
Select a Product
Customers Also Bought
This item appears on the following festival lists: