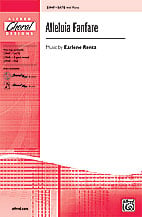 Alleluia Fanfare
Earlene Rentz
- Alfred Music Publishing
This majestic piece is an impressive addition to choral concerts and festivals year round.
Alleluia, Laudamus Te
and
Gloria
are set in 6/8 and underscored by a full-sounding piano accompaniment that is not difficult to play. Make it more festive by using live brass and percussion or the excellent recorded track.
Select a Product
Customers Also Bought
This item appears on the following state lists: