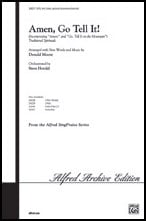 Amen, Go Tell It!
Donald Moore
- Jubilate Music Group, LLC
Two of the great Christmas spirituals,
Amen!
and
Go, Tell It on the Mountain
are superbly paired together in this gospel setting that is effective in both concert and worship settings! Be sure to include your best vocal soloist, along with the instrumentals on this energetic (and at times bluesy) arrangement that will bring Christmas joy to any gathering of listeners. A treat for singers of all ages, this receives our highest recommendation!
Select a Product
Customers Also Bought
MINTS