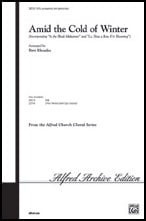 Amid the Cold of Winter
arr. Bret Rhoades
- Jubilate Music Group, LLC
Here is an inspired pairing of two beloved carols,
Lo, How a Rose E'er Blooming
and
In the Bleak Midwinter
that is truly quiet adoration. The transparent vocal writing and haunting harmonies create a sublimely beautiful offering for Advent or Christmas Eve services. A work of wonder and deeply personal devotion. Now available for SAB voices.
Select a Product
Customers Also Bought