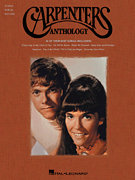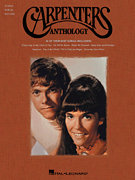 Anthology-Piano/Vocal
CARPENTERS
- Hal Leonard Corporation
Publisher Desc.
Features 43 of the best songs from this beloved sibling duo, including classics such as:
Bless the Beasts and Children; (They Long to Be) Close to You; For All We Know; Goodbye to Love; Hurting Each Other; I Just Fall in Love Again; I Won't Last a Day Without You; It's Going to Take Some Time; Let Me Be the One; Merry Christmas, Darling; Please Mr. Postman; Rainy Days and Mondays; Sing Solitaire; Superstar; There's a Kind of Hush (All Over the World); This Masquerade; Ticket to Ride; Top of the World; We've Only Just Begun; When I Fall in Love; Yesterday Once More
and more. Includes two tables on contents: one alphabetically by song title, and one chronologically by album.
Select a Product
Customers Also Bought
Full Song List
(WANT YOU) BACK IN MY LIFE AGAIN
WHERE DO I GO FROM HERE
BLESS THE BEASTS AND CHILDREN
CALLING OCCUPANTS OF INTERPLANETAR
(THEY LONG TO BE) CLOSE TO YOU
THE END OF THE WORLD
FOR ALL WE KNOW
GOODBYE TO LOVE
GOOFUS
HURTING EACH OTHER
ALL YOU GET FROM LOVE IS A LOVE SON
I JUST FALL IN LOVE AGAIN
I NEED TO BE IN LOVE
I WON'T LAST A DAY WITHOUT YOU
IT'S GOING TO TAKE SOME TIME
LET ME BE THE ONE
MAKE BELIEVE IT'S YOUR FIRST TIME
MERRY CHRISTMAS, DARLING
ONLY YESTERDAY
PLEASE MR. POSTMAN
RAINY DAYS AND MONDAYS
BEECHWOOD 4 5789
SING
SOLITAIRE
SOMETIMES
SWEET SWEET SMILE
THERE'S A KIND OF HUSH ALL OVER TH
THIS MASQUERADE
THOSE GOOD OLD DREAMS
TICKET TO RIDE
TOP OF THE WORLD
TOUCH ME WHEN WE'RE DANCING
BECAUSE WE ARE IN LOVE THE WEDDING
WE'VE ONLY JUST BEGUN
WHEN I FALL IN LOVE
YESTERDAY ONCE MORE
SUPERSTAR
DRUSCILLA PENNY
ONE LOVE
I KEPT LOVING YOU
SATURDAY
A SONG FOR YOU
YOU'RE THE ONE I LOVE