Anthology of Baroque Keyboard Music
(Alfred Masterwork Edition)
Various/ed. Hinson
- Alfred Music Publishing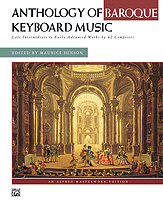 Anthology of Baroque Keyboard Music
(Alfred Masterwork Edition)
Various/ed. Hinson
- Alfred Music Publishing
This anthology features late intermediate to early advanced works by 42 composers of the Baroque era (1590-1750). Included are works in their original form with clearly identified editorial markings; a spaciously engraved score for easy reading; a useful, extensive foreword containing historical information and performance notes; and suggested realizations of ornaments. The companion DVD features one of America's most respected authorities on piano literature, Dr. Maurice Hinson and combines two videos:
Performance Practices in Baroque Keyboard Music
and
Baroque Dance and Baroque Keyboard Music
. The DVD is approximately 107 minutes in length.
Select a Product
Customers Also Bought
Full Song List
INVENTION NO. 1 IN C MAJOR by BACH, J S
INVENTION NO. 4 IN D MINOR, BWV 775 by BACH, J S
INVENTION NO. 8 IN F MAJOR, BWV 779 by BACH, J S
PRELUDE NO. 4 IN D MAJOR, BWV 936 by BACH, J S
PRELUDE AND FUGUE NO. 11 IN F MAJOR by BACH, J S
SINFONIA NO. 3 IN D MAJOR, BWV 789 by BACH, J S
LA FOLIE D'ESPAGNE by BAUSTETTER, J
CHACONNE by BOHM, G
COURANTE by BUXTEHUDE, D
SARABANDE by BUXTEHUDE, D
MENUET IN G MAJOR by D'ANGLEBERT, J
A GIGG by BYRD, W
WOLSEY'S WILDE by BYRD, W
SARABANDE I by CHAMBORNNIERES, J
GAVOTTA by CORELLI, A
ALLEMENDE IN D MINOR by COUPERIN, F
LE MOUCHERON THE GNAT) by COUPERIN, F
THREE DANCE PIECES by COUPERIN, L
LA GEMISSANTE by DANDRIEU, J
LES VENTS EN COURROUX by DAQUIN, L
LE COUCOU by DAQUIN, L
FANTASIA IN D MINOR, H. 195 by BACH, C P E
PAVANE: GILES FARNABY'S DREAME by FARNABY, G
PRELUDE AND FUGUE IN C MAJOR by FISCHER, J
GAGLIARDA GALLIARD) by FRESCOBALDI, G
SUITE IN A MINOR by FROBERGER, J
SONATA QUARTA by FUX, J
ALLEGRO FROM SONATA IN F MAJOR by GALUPPI, B
TWO POLONAISES by GOLDBERG, J
ALLEGRO IN C MAJOR by GRAUPNER, C
ARIA IN G MAJOR, HWV 441 by HANDEL, G
POLONAISE IN G MINOR by BACH, C P E
FANTASISIE IN C MAJOR, HWV 490 by HANDEL, G
SARABANDE IN C MAJOR, HWV 443 by HANDEL, G
SONATINA IN G MAJOR, HWV 234 by HANDEL, G
SUITE IN G MAJOR, HWV 450 by HANDEL, G
LA LUTINE: PUCK by KIRNBERGER, J
PARTITA IN G MAJOR by KRIEGER, J
BIBLICAL SONATA NO. 4 by KUHNAU, J
MENUET IN D MAJOR by LOEILLET, J
ARIA WITH VARIATIONS by MARTINI, P
SOLFEGGIO IN A MAJOR, H. 222 by BACH, C P E
SICILIANA IN D MINOR by MUFFAT, G
GAVOTTE AND VARIATION by PACHELBEL, J
TOCCATA IN A MAJOR by PARADIES, P
THREE ARIAS by PASQUINI, B
THE FALL OF THE LEAFE by PEERSON, M
ALLEGRO ASSAI FROM SONATA IN A MINO by PLATTI, G
CORANT, Z. 660:3 by PURCELL, H
A GROUND IN GAMUT, Z. 645 by PURCELL, H
JIGG, Z. 665:5 by PURCELL, H
SARABAND, Z. 665:4 by PURCELL, H
SONATA IN E MINOR, H. 106 by BACH, C P E
RIGAUDON II FROM SUITE I by RAMEAU, J
TWO MENUETS by RAMEAU, J
SONATA IN A MINOR, K. 61; L. 136 by SCARLATTI, D
SONATA IN D MAJOR, K. 96; L. 465 by SCARLATTI, D
SONATA IN E MAJOR, K. 531; L. 430 by SCARLATTI, D
SONATA IN F MAJOR: "PASTORALE" by SCARLATTI, D
TOCCATA by SEIXAS, C
SONATA IN G MAJOR, R. 4 by SOLER, A
SONATA IN B FLAT MAJOR, 4. 62:4 by SOLER, A
ALLEMANDE by TELEMANN, G
SONATINA NO. 5 IN F MAJOR, H. 296 by BACH, C P E
FANTASIA NO. 1 by TELEMANN, G
ALLEGRO by WAGENSEIL, G
RICERCATA by WAGENSEIL, G
GIGA by ZIPOLI, D
DIAGLOGUE by BACH, J C
FANTASIA IN C MINOR, BWV 906 by BACH, J S
FRENCH SUITE NO. 5 IN G MAJOR by BACH, J S
This item appears on the following state lists: