Aptitude
Julie Davila, Thom Hannum, Jeff Prosperie & Jim White
- Drop 6 Media, Inc.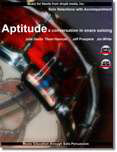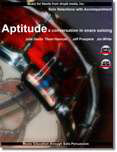 Aptitude
Julie Davila, Thom Hannum, Jeff Prosperie & Jim White
- Drop 6 Media, Inc.
Aptitude melds contemporary and rudimental styles into an exciting collection of musical expressions. These creative works are complemented with an energetic CD accompaniment to create a new genre of soloing. Each solo offers a complete musical performance experience with compositional elements providing multi-level musical and technical challenges. The book features virtually all styles of soloing, and its well-crafted compositions streamline the challenges of making music.
Select a Product
Customers Also Bought
Full Song List
GROOVE TRAIN by JEFF PROSPERIE
CHAIN REACTION by JIM WHITE
BREAKING BORDERS by JULIE DAVILA
TAKE IT EASY by THOM HANNUM
AN AMERICAN TRIBUTE by JEFF PROSPERIE
THE TASTEFUL SNARE by JEFF PROSPERIE
EL TOUR DEL RITMO by JULIE DAVILA
GOT A PULSE? by THOM HANNUM
This item appears on the following state lists: