Artistic Pedal Technique
(Lessons for Intermediate and Advanced Pianists)
Katherine Faricy
- Fred Harris Music Co. Ltd.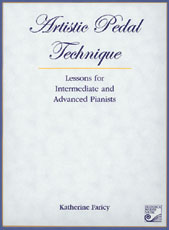 Artistic Pedal Technique
(Lessons for Intermediate and Advanced Pianists)
Katherine Faricy
- Fred Harris Music Co. Ltd.
We piano teachers spend so much time working with students on finger technique. What about the feet?  Here's a method suitable for intermediate and advanced students!  Even elementary students can benefit from the first exercises, and gradually progress through the method over the succeeding years. Informative and insightful, this comprehensive book presents pianists with lessons for developing an artful pedal technique. Features include exercises to develop control of the damper pedal at various depths; and lessons in playing with such techniques as syncopated pedal, simultaneous pedal, flutter pedal, and legatissimo pedal. An entire unit discusses the stylistic principles of applying the pedal to Baroque, Classical, Romantic, Impressionistic, and Contemporary music.  Examples are provided from the music of Mozart, Haydn, Beethoven, Schubert, Mendelssohn, Chopin, Schumann, Liszt, Brahms, Debussy, Ravel, Bartok, and others. Examples from the music of North American composers such as Samuel Barber and Aaron Copland are also found in this unique volume. Highly recommended.
Select a Product
Customers Also Bought