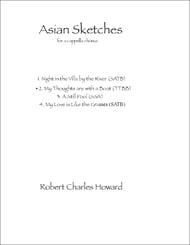 Asian Sketches 2 - My thoughts are with a Boat
Robert Charles Howard
- Robert Howard
A cappella
Publisher Desc.
My thoughts are with a Boat is the second movement of Asian Sketches, This movement is scored for TTBB voices.
Recording, by permission of the Saint Louis Chamber Chorus (Philip Barnes, conductor_; from the SLCC CD "Singing St. Louis". Recording may not be used or copied except by prior licensing from SLCC .
www.chamberchorus.org
Text:
My thoughts are with a boat
which travels island - hid
in the morning mist of Akashi,
Dim, Dim!
Select a Product
Customers Also Bought