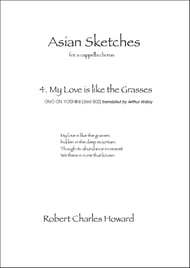 Asian Sketches 4. My Love is Like the Grasses
Robert Charles Howard
- Robert Howard
A cappella
Publisher Desc.
My Love is Like the Grasses is the fourth movement of an a cappella work entitled Asian Sketches. It is scored for SATB chorus.
Recording, by permission of the Saint Louis Chamber Chorus (Philip Barnes, conductor; from the SLCC CD "Singing St. Louis". Recording may not be used or copied except by prior licensing from SLCC.
www.chamberchorus.org
Text:
My love is like the grasses,
hidden in the deep mountain:
Though its abundance increases
Yet there is none that knows.
Select a Product
Customers Also Bought