Atom Producer Lab
(Complete Production Kit)
PreSonus
- PRESONUS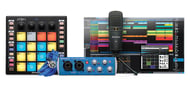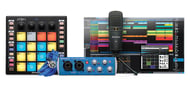 Atom Producer Lab
(Complete Production Kit)
PreSonus
- PRESONUS
The ATOM Producer Lab provides all the tools you need to produce tracks from beginning to end. Get started triggering samples and loops in real-time with the flexible and intuitive ATOM pad controller. Record vocals and create your own sample library with the bus-powered AudioBox USB 96 audio/MIDI interface and M7 large-diaphragm condenser microphone. Mix it all in StudioOne Artist with the bonus MVP Loop content library and the Studio Magic Plug-in Suite for professional results, whether your studio is in your bedroom or your backpack.

Features include:
Tightly integrated, flexible, all-PreSonus production environment ATOM USB pad controller for producing, playing virtual instruments, and triggering samples and loops
AudioBox USB 96 audio/MIDI interface
StudioOne Artist production software and Studio Magic Plug-in Suite
M7 studio condenser microphone
MVP Loops content custom-designed for ATOM

Width: 11.5"
Length: 13.0"
Select a Product
Customers Also Bought
This item appears on the following festival lists: