Austrian Peasant Dance
(Symphony #1, Second Mvt.)
Gustav Mahler/arr. Vernon Leidig
- Dorabet Music Co.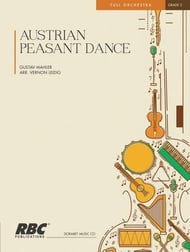 Austrian Peasant Dance
(Symphony #1, Second Mvt.)
Gustav Mahler/arr. Vernon Leidig
- Dorabet Music Co.
This energetic arrangement of the second movement of Mahler's first symphony, which he called an Austrian Peasant dance, has all the simplicity of a folk dance, and all the beauty and power of Mahler.
Select a Product
Customers Also Bought
This item appears on the following state lists: