Auxiliary Podium
(Conductors' Field Riser)
Wenger
- Wenger Corporation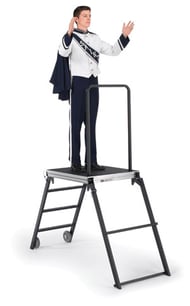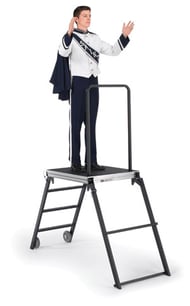 Auxiliary Podium
(Conductors' Field Riser)
Wenger
- Wenger Corporation
This portable, easy-to-set-up drum major platform is the companion to the Field Podium. It stands 42" (1.1 m) tall to flank the conductor. One person can roll it easily, and it can be unfolded and ready to go in less than 30 seconds. It's sturdy and comes with a safety railing.


42" (1.1 m) platform lets a drum major see and be seen
Ladder steps on the back and a safety rail on top
Rubber wheels make transportation onto the field easy
Sturdy, durable deck affords excellent traction
Unique combination of black, powder-coat painted steel and aluminum for a striking appearance and maximum durability
Simple design folds compactly and rolls from vehicle to performance position
Two high-wear rubber wheels
Dimensions: with rail - 32" x 72" x 80" (81 cm x 183 cm x 203 cm)
without rail - 32" x 72" x 42" (81 cm x 183 cm x 107 cm)
stored position - 32" x 54" x 8" (81 cm x 54 cm x 20 cm)

A customer service rep will contact you with a shipping quote. Allow 30 to 60 days delivery.
Select a Product
Customers Also Bought