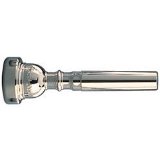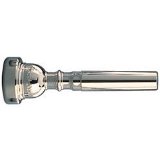 Bach Trumpet Mouthpiece - Silver Plated
- Vincent Bach
Bach Standard Series mouthpieces are some of the most popular mouthpieces in the world among both students and professionals. They are categorized from large to small diameters numerically, and from the deepest to the shallowest cup alphabetically. Model 1 Bach Standard Series mouthpieces are the largest cup diameter, and letter A cups are the deepest. Progressively smaller-diameter cups are delineated through number 20 and shallower cup depths are delineated through letter F.
Vincent Bach was a rare combination of artist and engineer. A mechanical genius and acclaimed trumpet soloist, his instruments and mouthpieces are used today in every major studio and orchestra in the world. Bach personally designed the tools and composed the plans that continue to set the high standards for making all Bach products today.
Select a Product
WARNING: This product can expose you to chemicals which are known to the State of California to cause cancer, birth defects, or other reproductive harm.
Customers Also Bought