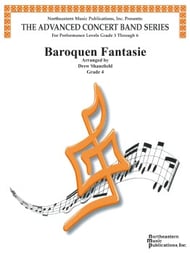 Baroquen Fantasie
Drew Shanefield
- Northeastern Music Publications
Publisher Desc.
Inspired by the famous Pachelbel Canon,
Baroquen Fantasie
is an energetic multi-movement work for concert band. The piece offers solo opportunities for many winds and provides students with varied ensemble textures, rhythmic vitality and fresh harmonic twists. An effective composition for maturing ensembles!
Baroquen Fantasie
was awarded second place in the 2012 National Band Association Young Band Composition Contest.
Select a Product
Customers Also Bought