Bass Lines from the Volume 54 Play-Along: Maiden Voyage
Jamey Aebersold/ Evan Barker
- Jamey Aebersold Jazz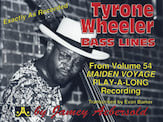 Bass Lines from the Volume 54 Play-Along: Maiden Voyage
Jamey Aebersold/ Evan Barker
- Jamey Aebersold Jazz
Want to learn how to build great bass lines? This book will help! While reading from the book, play along with the bassist on the recording from
A New Approach to Jazz Improvisation Volume 54: Maiden Voyage
(sold separately - J.W. Pepper number 5293923) until you've mastered his "feel" and nuances. Then, using the special stereo separation on all "New Approach" recordings, switch the bassist off and play along with just the piano and drums! This book is a great study in professional bass line construction, and is a natural companion to the Aebersold play-alongs. Combo and jazz ensemble instructors can use this book to give their bass students instant, professional bass lines. Includes transcribed bass lines to the chord changes of:
Autumn Leaves; Bb Shuffle Blues; Cantaloupe Island; Doxy; F Blues; Footprints; Impressions; Maiden Voyage; Satin Doll; Song for My Father; Summertime; Watermelon Man
and
III/V17/II/V Progression.
Includes notes in bass clef with chord symbols above each measure.
Select a Product
Customers Also Bought