Bill Evans Live in '64 and '75
Bill Evans
- Hal Leonard Corporation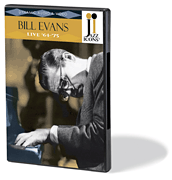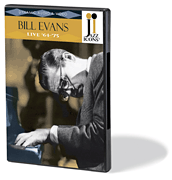 Bill Evans Live in '64 and '75
Bill Evans
- Hal Leonard Corporation
Five separate performances from one of the most revered pianists in music history, Bill Evans, are the centerpiece of this DVD. Covering an 11-year span and highlighting Evans' ever deepening artistry, he performs with four different rhythm sections, including the stunning duo of bassist Niels-Henning Orsted Pedersen and drummer Alan Dawson. This DVD also includes rare performances of
Sareen Jurer; Blue Serge
and
Twelve Tone Tune Two,
plus a live performance of
My Melancholy Baby
with saxophonist Lee Konitz. Also includes:
My Foolish Heart; Israel; Detour Ahead; Emily; Alfie; Someday My Prince Will Come; If You Could See Me Now; 'Round Midnight; Sleepin' Bee; You're Gonna Hear from Me; Re: Person I Knew; Up with the Lark
and
But Beautiful.
98 minutes.
Select a Product
Customers Also Bought