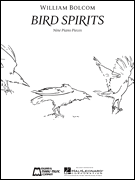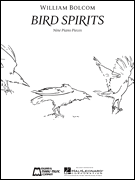 Bird Spirits
William Bolcom
- Edward B. Marks Music
Nine very short piano pieces written in 1999 and 2000 inspired by nine bird prints of crows by Frank Boyden. The shortest piece is eleven measures, the longest 38. Includes music and bird prints in side-by-side format. Pieces (dynamic markings for each) are:
Bold and bright; Light and smooth, with gentle accentuation; Implacable; Dignified; Quasi alla marcia; Preparing for a long flight; Ferociously; Stately, sustained
and
Simply, very strong and forceful, yet lyrical
.
Copyright: New York, NY: Edward B. Marks Music Co. ©2011
Select a Product
Customers Also Bought
Full Song List
BOLD AND BRIGHT
LIGHT AND SMOOTH, WITH GENTLE ACCENTUATION
IMPLACABLE
DIGNIFIED
QUASI ALLA MARCIA
PREPARING FOR A LONG FLIGHT
FEROCIOUSLY
STATELY, SUSTAINED
SIMPLY, VERY STRONG AND FORCEFUL, YET LYRICAL