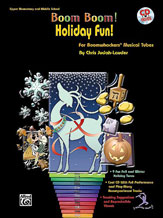 Boom Boom! Holiday Fun!
Chris Judah-Lauder
- Alfred Music Publishing
Use the teaching suggestions and reproducible visuals, as well as the enjoyable performance/accompaniment CD, to create a learning experience that is both fun and educational. Songs include
The Chicken Dance, Have You Seen the Ghost of Tom?, Peter Peter Pumpkin Eater, Hanukkah, Jingle Bells, Deck the Hall, Santa Rap, Rudolph the Red-Nosed Reindeer, Grandma Got Run Over by a Reindeer
and
We Wish You a Merry Christmas.
Select a Product
Customers Also Bought
This item appears on the following festival lists: