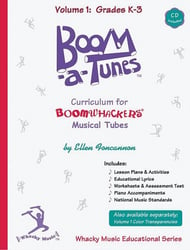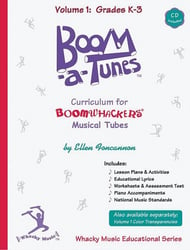 Boom a Tunes Curriculum
(Volumes 1-5)
Ellen Foncannon
- Whacky Music Inc.
A comprehensive teaching program using Boomwhackers tuned percussion tubes. Educational lyrics introduce the location of notes on the staff and integrate singing and playing to involve the entire class. The colors of the different tubes are also used to help teach note recognition. Each song reinforces the location and identification of one or more notes; lesson/performance suggestions and a related activity are also given. Reproducible worksheets are also included. Piano scores are given to accompany each song; alternately, use the tracks on the included CD. The lesson plans and activities address the National Music Standards.

Volume 1 introduces the treble staff as well as 3/4 and 4/4 time signatures with memorable lyrics and games.
Volume 2 continues treble reading from Volume 1 completing the treble clef through high G. The 6/8 time signature is introduced with the memorable lyrics.
Volume 3 introduces bass clef and grand staff reading. Mixed meter is also introduced.
Volume 4 Uses all Boomwhackers Tube Sets (except Pentatonic) and Octavator Tube Caps. Completes bass clef notes and grand staff reading. Also covers mixed meter, tempo markings, intervals, accents and accidentals.
Select a Product
Customers Also Bought
This item appears on the following festival lists: