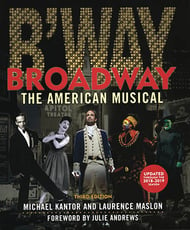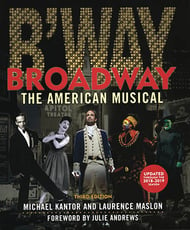 Broadway: The American Musical
(Updated through the 2018-2019 Season)
Michael Kantor & Laurence Maslon
- Applause Theatre & Cinema Books
Publisher Desc.
Along with jazz and abstract expressionism, the Broadway musical is one of the few uniquely American art forms. A companion to the six-part PBS documentary series (winner of the 2005 Emmy Award for Best Documentary Series), Broadway: The American Musical is the first comprehensive history of the musical, from its roots at the turn of the 20th century through to the smashing successes of the new millennium.
The compelling, in-depth text is lavishly illustrated with a treasure trove of photographs, sheet-music covers, posters, scenic renderings, production stills, rehearsal shots, and caricatures, many previously unpublished. Complementing the narrative are lively sidebars that highlight the stars, the shows, and the songs--the key ingredients that make the musical great. Also included are more than a dozen full lyrics to the most essential songs of the canon, written by Broadway's most influential songwriters. An expansive appendix offers readers maps of the Theater District, and a selective chronology of the most important musicals (an Tony Award winners) over the last 120 years.
An entertaining amalgam of unpublished material, candid and production photographs, and a trunkful of anecdotes and Broadway lore, Broadway: The American Musical will appeal to eighth-graders in their first high school musical as well as to connoisseurs of the art form.
The third edition is revised and updated, featuring a new foreword by Julie Andrews, and covers the important Broadway musicals and trends through the end of the 2018-2019 season, including Hamilton, Dear Evan Hansen, and Hadestown.
Copyright: New York, NY: Applause Books ©2020
Select a Product
Customers Also Bought