Building Blocks for Beginning Band
Robert W. Wilson
- Wilson Publications, LLC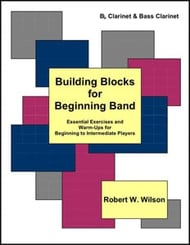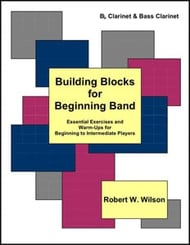 Building Blocks for Beginning Band
Robert W. Wilson
- Wilson Publications, LLC
Publisher Desc.
Building Blocks for Beginning Band
is a warm-up and technique book for young instrumentalists. There is one book for each instrument -- they can be used for private instruction, small group lessons, or full ensembles. Designed for a beginning instrumental student, each book also includes optional high and low notes for more advanced studies. Daily use of this book will help build a student's tone production, technical dexterity, music reading fluency, and countless other performance fundamentals.
Building Blocks for Beginning Band
includes four main sections: Beginning Scale Starters, Scale Focus, Advanced Warm-Ups and Concepts, and Rhythm Concepts. It is set up in the four most common major concert keys that students will encounter in their first year of instrumental music: Concert B-flat, E-flat, A-flat, and F major. It also incorporates the correlating concert minor keys G, C, F, and D as well as the chromatic scale.
Select a Product
Customers Also Bought