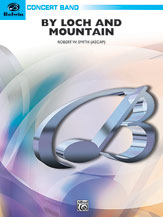 By Loch and Mountain
Robert W. Smith
- Alfred Music Publishing
Journey to the land of castles in the Highlands with this stunningly beautiful composition! The opening features a silvery baritone solo on the traditional Irish folk song
I Know Where I'm Going,
and the piece goes on to paint a scene as magnificent to hear as it was for the composer to see. The energetic
Highland Celebration
is built upon the pulsing rhythms that Robert Smith is known for, and creates the vision of Gaelic dancers whirling in a display of exuberant joy. A superb concert/contest work that comes across very impressively, yet doesn't go overboard in technical demands. Sensational!
Select a Product
Customers Also Bought
This item appears on the following state lists: