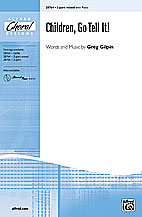 Children, Go Tell It!
Greg Gilpin
- Alfred Music Publishing
An exuberant chorus alternates with a vibrant verse in this gospel original for Christmas. With no-fail syncopations and bright chords that lock in every time, it's the kind of song you just don't want to end.  The final a cappella clap-along section really kicks!
Select a Product
Customers Also Bought
MINTS