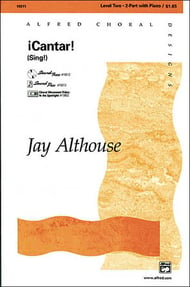 Cantar!
Jay Althouse
- Alfred Music Publishing
Cuban salsa music is sweeping the country, and
Cantar!
(which means "Sing!" in Spanish) is a stylistically authentic salsa work for choir. The text is a combination of English and simple, repetitive Spanish phrases, set to a rhythmically infectious melody. It's a cross-cultural song for general concerts, especially during "Music In Our Schools" month. The recorded accompaniment really sizzles!
Select a Product
Customers Also Bought
This item appears on the following state lists:
This item appears on the following festival lists: