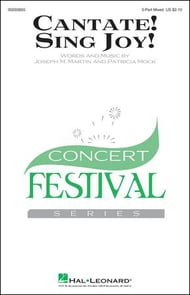 Cantate! Sing Joy!
Joseph M. Martin & Patricia Mock
- Hal Leonard Corporation
This song of celebration is rhythmic and syncopated with effective use of mixed meter. Using just a touch of Latin with the word "cantate," the text is mostly in English. Plenty of unison and two-part writing makes this piece easily learned and sets your choir up for success. With a dynamic yet accessible piano part adding the final touch, this piece would make a wonderful festival or concert opener.
Select a Product
Customers Also Bought
MINTS
This item appears on the following state lists:
This item appears on the following festival lists: