Carols We Love
arr. Pepper Choplin, Mark Hayes, Lloyd Larson, Mary McDonald, Ruth Elaine Schram & Larry Shackley
- Lorenz Corporation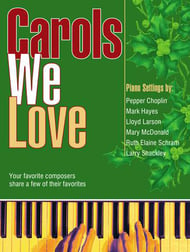 Carols We Love
arr. Pepper Choplin, Mark Hayes, Lloyd Larson, Mary McDonald, Ruth Elaine Schram & Larry Shackley
- Lorenz Corporation
Six of our favorite arrangers of sacred music offer two of their favorite carols each in this collection that's sure to be a hit! As an added bonus, each arranger tells us why they chose each carol and their reasons for setting them to a particular style. Contents are:
O Little Town of Bethlehem
and
There's a Song in the Air
(arr. Pepper Choplin);
Carol of the Bells
and
God Rest Ye Merry, Gentlemen
(arr. Mark Hayes);
Lo, How a Rose E'er Blooming
and
He Is Born, the Divine Christ Child
(arr. Lloyd Larson) and titles arranged by Mary McDonald, Ruth Elaine Schram and Larry Shackley.
Select a Product
Customers Also Bought
Full Song List
O LITTLE TOWN OF BETHLEHEM by ARR. CHOPLIN, P
THERE'S A SONG IN THE AIR by ARR. CHOPLIN, P
CAROL OF THE BELLS by ARR. HAYES, M
GOD REST YE MERRY, GENTLEMEN by ARR. HAYES, M
LO, HOW A ROSE E'ER BLOOMING by ARR. LARSON, L
HE IS BORN, THE DIVINE CHRIST CHILD by ARR. LARSON, L
ANGELS WE HAVE HEARD ON HIGH by ARR. MCDONALD, M
AWAY IN A MANGER by ARR. MCDONALD, M
SILENT NIGHT by ARR. SCHRAM, R
ANGELS FROM THE REALMS OF GLORY by ARR. SCHRAM, R
THE FRIENDLY BEASTS by ARR. SHACKLEY, L
SING WE NOW OF CHRISTMAS