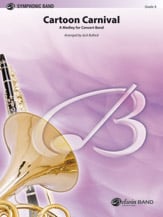 Cartoon Carnival
arr. Jack Bullock
- Alfred Music Publishing
Fun, fun, and more fun! This medley includes some of the most popular and catchy cartoon theme songs ever! Titles include:
Merrily We Roll Along; (Meet) The Flintstones; Jetson's Main Theme; Animaniacs; This Is It
and
The Merry-Go-Round Broke Down.
Your percussion section will have a blast with the special effects. It's a real treat for your band and audience!
Select a Product
Customers Also Bought