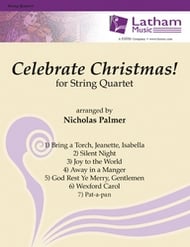 Celebrate Christmas!
(for String Quartet)
arr. Nicholas Palmer
- Latham Music
From ethereal and mystical to virtuosic, these arrangements evoke the true Christmas spirit. There are some tricky rhythms and keys, so individual practice is recommended for these tunes. You will find they are well worth the effort! Titles included: Bring a Torch, Jeanette, Isabella; Silent Night; Joy to the World; Away in a Manger; God Rest Ye Merry, Gentlemen; Wexford Carol and Pat-a-Pan.
Select a Product
Customers Also Bought
Full Song List
BRING A TORCH JEANETTE, ISABELLA
SILENT NIGHT
JOY TO THE WORLD
AWAY IN A MANGER
GOD REST YE MERRY, GENTLEMEN
WEXFORD CAROL
PAT-A-PAN