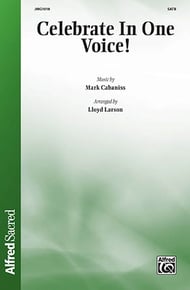 Celebrate in One Voice!
Mark Cabaniss/arr. Lloyd Larson
- Jubilate Music Group, LLC
For general worship, missions, World Communion Sunday, or unity-themed services, this anthem celebrates Christ and His church with a call to action to share His love. Also, it reminds all that the church is a home where everyone can gather together on the common ground of faith... to "celebrate in one voice!" Joyful!
Copyright: : ©2020
Select a Product
Customers Also Bought
This item appears on the following festival lists: