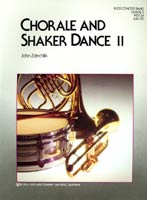 Chorale and Shaker Dance II
John Zdechlik
- Neil A. Kjos Music Company
What a welcome addition to Grade 3 band literature! Scored by the composer himself, John Zdechlik has taken his famous original work,
Chorale And Shaker Dance
and recast it in a format playable by Grade 3 bands. You'll still work on it a lot but the work you put into it will be repaid many times over!
Select a Product
Customers Also Bought
This item appears on the following state lists:
This item appears on the following festival lists: