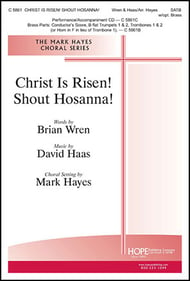 Christ Is Risen! Shout Hosanna!
arr. Mark Hayes
- Hope Publishing Company
Hear the joy of Easter morning with Mark Hayes' festive setting of this Brian Wren hymn text paired with David Haas' regal tune, HOSANNA. From the opening line "Christ is Risen! Shout Hosanna! Celebrate this day of days!" this expression of Easter joy captures the triumph of the resurrection.
Select a Product
Customers Also Bought
This item appears on the following festival lists: