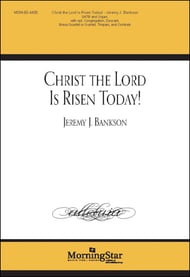 Christ the Lord Is Risen Today!
arr. Jeremy J. Bankson
- MorningStar Music Publishers
A brilliant brass fanfare introduces the festive LLANFAIR melody associated with this great Easter text. Three verses follow, with instrumental interludes between verses and a descant soaring over the final verse with optional congregational participation. An effective and joyous arrangement to start your Easter service!
Select a Product
Customers Also Bought