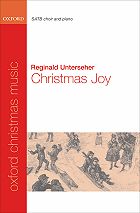 Christmas Joy!
arr. Reginald Unterseher
- Oxford University Press
Deck the Hall; Jingle Bells; O Christmas Tree
and
Here We Come A-Wassailing/We Wish You a Merry Christmas
comprise this jolly holiday collection for mixed choir with optional children's choir and/or audience participation. Plenty of "fa la la's," jingling bells and figgy pudding will fill every heart with the traditional joys of Christmas!
Select a Product
Customers Also Bought
Full Song List
DECK THE HALL
JINGLE BELLS
O CHRISTMAS TREE
HERE WE COME A WASSAILING/ WE WISH YOU A MERRY CHRISTMAS