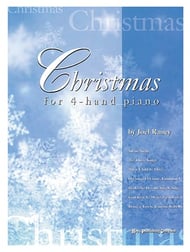 Christmas for Four-Hand Piano
arr. Joel Raney
- Hope Publishing Company
This excellent collection is filled with a variety of styles and sounds, from exclamations of glorious praise to quiet, prayer-like settings. Titles included are:
Silent Night; We Three Kings; What Child Is This; O Come, O Come Emmanuel; Hark! the Herald Angels Sing; God Rest Ye Merry, Gentlemen
and
Bring a Torch, Jeanette Isabella
.
Select a Product
Customers Also Bought
Full Song List
HARK THE HEARALD ANGELS SING
BRING A TORCH JEANETTE ISABELLA
GOD REST YE MERRY GENTLEMEN
SILENT NIGHT
WHAT CHILD IS THIS
O COME O COME EMMANUEL
WE THREE KINGS