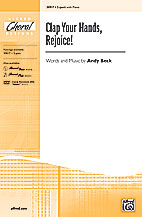 Clap Your Hands, Rejoice!
Andy Beck
- Alfred Music Publishing
Joyful vocal phrases are punctuated with rhythmic handclaps throughout this thrilling concert and festival piece for developing choirs.  A few optional cued notes will introduce your group to simple triad singing, and a buoyant descant creates a third layer in the add-on ostinato section and at the triumphant conclusion.  This is guaranteed to launch your choir into a successful performance!
Select a Product
Customers Also Bought
This item appears on the following festival lists: