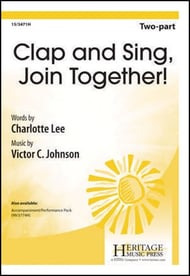 Clap and Sing, Join Together!
Victor C. Johnson
- Heritage Music Press
This vibrant celebration in classic ABA form has a nice, syncopated opening and a contrasting lyrical middle section. It consists primarily of unison writing with some easily taught moments of two- and three-part harmony. Arranged in a comfortable range for middle school voices, it also features simple clapping patterns and nice harmonic moments and is an especially effective concert opener.
Select a Product
Customers Also Bought
MINTS
This item appears on the following festival lists: